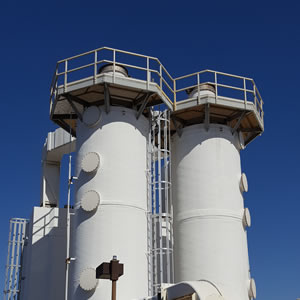 EWA strives to be a "good neighbor" by implementing measures to minimize the discharge of air emissions and odors from the treatment plant. Activities include: routine maintenance and testing of the cogeneration engines to ensure compliance with emission standards; tracking and annual reporting of greenhouse gas (GHG) emissions for the facility; and daily checks of odor reduction facilities to ensure effective operation. Additional air quality controls include the following:
Both primary sedimentation tanks and secondary aeration basins are covered. While covering the primaries is common practice, very few treatment plants cover the secondary basins.
Liquid and solids treatment processes are vented through a biological scrubber and/or carbon. In accordance with EWA's air permits, the carbon is tested annually and replaced when the sulfur content exceeds required compliance standards.
While loading biosolids into trucks, building doors are kept closed.
Before putting a primary sedimentation tank or secondary clarifier online, the tanks are pre-filled with recycled water to minimize odor production.
EWA typically gets very few odor complaints. When one is received, a formal procedure is followed including: documenting the complaint; conducting an investigation; taking action to mitigate the source of the odor if it originates from the EWPCF; and following up with the complainant regarding the results of the investigation and any actions taken.