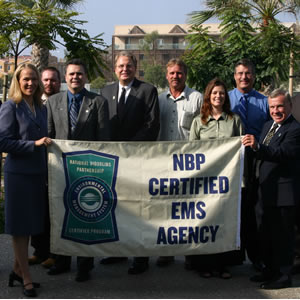 On August 10, 2005, EWA became the ninth agency in the nation to receive certification of its Biosolids Environmental Management System (EMS) from the National Biosolids Partnership (NBP).
The NBP was formed by the U.S. EPA, the Water Environment Federation, and the National Association of Clean Water Agencies with a goal of advancing environmentally sound and sustainable biosolids management practices that exceed regulatory compliance requirements. The NBP's EMS Program was derived from the ISO 14001 standard, but incorporates best management practices specific to biosolids and elements designed to enhance public participation and communication.

EWA has developed a Biosolids EMS that encompasses all of its biosolids activities. EWA's Biosolids EMS, which was most recently certified by an independent third-party auditor in January 2016, consists of: biosolids management related documents; a tracking and control system; and a set of standard procedures that are used to improve the effectiveness of plant operations, to meet regulatory requirements, and to address any environmental issues associated with biosolids production and handling. EWA's Biosolids EMS also includes: a Biosolids Management Policy; an EMS Manual; a process for establishing and tracking biosolids program goals; an internal audit program; and provisions for maintaining NBP program certification through third-party audits. EWA is committed to managing its biosolids in an environmentally sound, sustainable, socially accepted, cost-effective and safe manner. The Biosolids EMS provides a framework for achieving this goal.
---
Biosolids Management Policy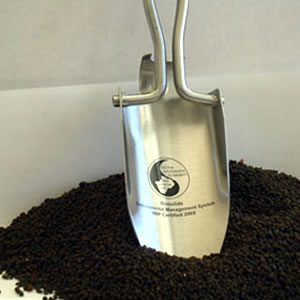 One of the requirements of the EMS Program is to establish a Biosolids Management Policy that commits the organization to following the principles of conduct set forth in the NBP's Code of Good Practice and may include other biosolids commitments the organization voluntarily chooses to adopt. EWA's Board of Directors adopted the following Biosolids Management Policy on January 28, 2009:
It is the policy of the Encina Wastewater Authority to;
Pursue sustainable biosolids reuse options that protect human health and environmental quality, are fiscally responsible and provide flexibility with respect to end use;
Follow the Code of Good Practice for biosolids developed by the National Biosolids Partnership; and
Implement the Encina Wastewater Authority's Biosolids Management Plan.
A copy of the NBP Code of Good Practice may be found here.
EMS Manual
NBP EMS Program participants are required to develop an EMS Manual that describes policies, programs and procedures utilized to manage biosolids. The manual must address 17 elements including: documentation, training, communication, legal requirements, emergency response, monitoring, goal setting, corrective actions, internal audits, management review, and reporting. EWA's EMS Manual can be found here.
Goals & Objectives
One of the key concepts of the EMS Program is continuous improvement. As a result, organizations must establish biosolids program goals and objectives, and track progress in achieving them. EWA's biosolids goals and objectives are incorporated into its Business Plan. Progress is reported in the Annual Biosolids Program Report. Biosolids program goals for the current fiscal year can be found here.
Internal Audits
To further the goal of continuous improvement, EWA conducts internal audits of its biosolids program. These audits include: a review of operating procedures to ensure they are up-to-date; a review of records to verify compliance with legal requirements and operating procedures; and discussions with staff to assess knowledge of applicable requirements.
Third-Party Audits
EWA also undergoes periodic third-party audits to maintain NBP certification. Following initial certification, a third-party auditor conducts interim audits covering portions of the EMS program and then a full audit every five years. In 2015 the third-party audited the entire EMS and determined that EWA's Program is effective and meets the requirements of the NBP. A copy of the most recent external audit report can be found here.
Program Performance
On an annual basis, EWA prepares a written report summarizing the performance of the biosolids management program during the previous fiscal year. This report includes: monitoring and measurement results; progress on established program goals; contractor performance; internal audit results; and external audit results, if applicable. A copy of the most recent Annual Biosolids Program Report can be found here.
Biosolids: The nutrient-rich organic materials resulting from the wastewater treatment process.
EMS: A modern management tool used to develop. implement and monitor environmentally sustainable practices