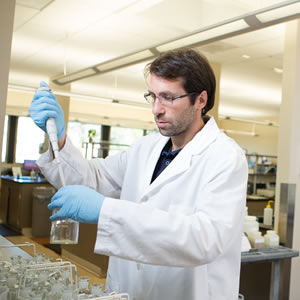 EWA's laboratory performs testing to ensure that required secondary treatment standards are met and the discharge of treated wastewater from the Encina Water Pollution Control Facility (EWPCF) through the ocean outfall is in compliance with EWA's ocean discharge permit (National Pollutant Discharge Elimination System or NPDES permit). Testing results demonstrate that effluent from the EWPCF consistently exceeds regulatory standards. In fact, EWA continues to receive a Platinum Award from the National Association of Clean Water Agencies (NACWA) for having a perfect compliance record with its NPDES permit for five or more consecutive years.
State Certified Laboratory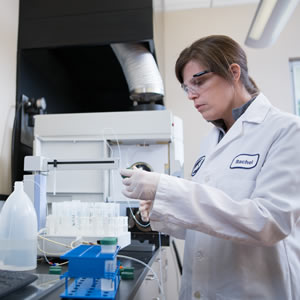 EWA's laboratory is certified by the California State Water Resources Control Board's Environmental Laboratory Accreditation Program (ELAP), which is required for all environmental laboratories that generate analytical data for California regulatory agencies. To obtain ELAP certification, laboratories must: submit an application to the California Department of Public Health along with their Quality Assurance Manual; undergo a site visit by ELAP technical staff and correct any deficiencies noted; and participate in a performance evaluation (PE) study. A certificate is issued for a period of two years based on successful completion of these items. To maintain certification, laboratories must: submit a renewal application every two years; undergo an annual site audit; and successfully participate in the PE study each year.
---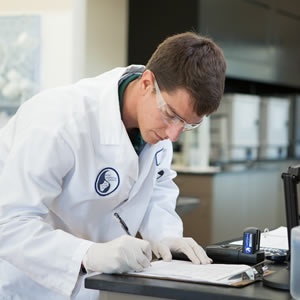 Types of Analyses
EWA's laboratory is certified to conduct the following analyses: Alkalinity, Ammonia, Biological Oxygen Demand (BOD), Carbonaceous Biochemical Oxygen Demand (CBOD), Chemical Oxygen Demand (COD), Chloride, Chlorine, Conductivity, Dissolved Oxygen, E. coli, Enterococci, Fecal Coliform, Hardness, Heterotrophic Bacteria (HPC), Metals, Nitrite, pH, Phosphorus, Sulfate, Sulfide, Total Coliform, Total Dissolved Solids (TDS), Total Solids (TS), Total Suspended Solids (TSS), Turbidity, Volatile Solids, and Volatile Suspended Solids (VSS). Samples that require analysis by methods for which EWA's laboratory is not certified are sent to a commercial laboratory with the proper certification.

EWA's laboratory provides services in support of the EWPCF, our member agencies, and the Source Control Program (which regulates industrial dischargers in EWA's service area). Samples analyzed include: EWPCF influent, effluent, and wastewater from various stages throughout the treatment process; wastewater solids; ocean samples collected in the surf zone, as well as upstream and downstream of the ocean outfall; reclaimed water samples; storm water samples; drinking water samples; and industrial wastewater collected from permitted industries.