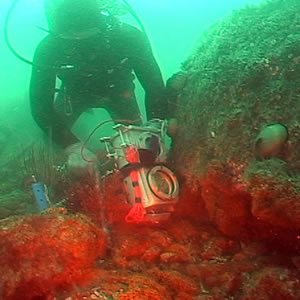 Treated wastewater from the Encina Water Pollution Control Facility is discharged to the Pacific Ocean through the Encina Ocean Outfall (EOO), which extends approximately 1.5 miles offshore to a depth of about 150 feet. The EOO consists of an original 5,500 foot section of 48-inch reinforced concrete pipe that was completed in 1965 and a 2,300 foot section of 72-inch reinforced concrete pipe that was added in 1974. The last 800 feet of the outfall contains 138 diffuser ports at 12-foot intervals for the purpose of dispersing treated wastewater flow.
A diagram of the outfall can be see here.
To ensure the integrity of the ocean outfall, EWA conducts the following activities:
External inspection – Every two years, an external inspection of the outfall is conducted using a diver for the nearshore section and a remote operated vehicle for the deep water section. The 2017 inspection found the outfall to be in good condition with no significant ballast losses observed. Cleaning of the diffuser ports and clearing of kelp attached to the outfall pipe were completed. See video below.


Integrity assessment – Every six years, an integrity assessment is conducted that includes closed-circuit television and manned entry inspections of portions of the interior of the land outfall. The 2015 assessment found the interior to be in good to fair condition. No significant structural damage or deterioration was observed that would suggest the structure is in present or near future danger of instability or failure.


Multi-beam bathymetric survey – Every six years, a survey is conducted to document the ocean outfall position, condition of the ballast material, and configuration of the area surrounding the outfall. The initial survey, conducted in 2015, utilized a multi-beam echo sounder sonar system to produce a bathymetric chart covering the ocean outfall and 100 feet to either side. This will serve as a baseline for comparison to future surveys to determine if the ballast pile is changing over time or if more areas of the pipeline have become exposed.
Watch the following video to learn more about external inspections of the outfall.