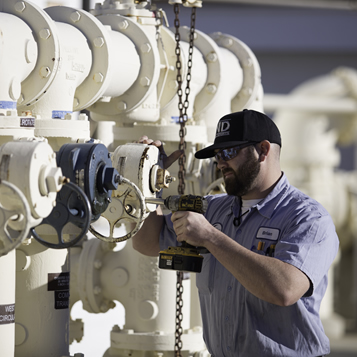 The Encina Water Pollution Control Facility (EWPCF) is an industrial plant comprised of complex mechanical and electrical systems. These systems must function reliably to ensure that treated water is safe for ocean discharge and for producing recycled water. Optimal performance does not happen by accident, but requires a comprehensive system of proactive maintenance.
The objective of the organization's maintenance program is to keep plant systems functioning at an optimum performance level, so that EWA can fulfill its mission of protecting the ocean environment and maximizing the production of renewable resources.
---

General Services Department
The task of keeping EWPCF equipment performing to expectations is the responsibility of the General Services Department whose staff includes eight mechanical technicians, three electrical/electronic technicians, two information technology technicians and five miscellaneous warehousemen, planners and managers. These highly skilled personnel manage and maintain more than 4,000 pieces of equipment at the EWPCF, the Carlsbad Water Reclamation Facility and four remote pump stations. The equipment ranges from high speed rotating centrifuges, to large stationary engines, to complex control systems consisting of routers, servers, programmable logic controllers and fiber network.
---

Computerized Maintenance Management
Staff utilizes a Computerized Maintenance Management System (CMMS) to schedule preventive maintenance tasks and unplanned service requests, as well as to track performance of assets. The maintenance effort is highly productive with more than 5,000 work orders completed each year.