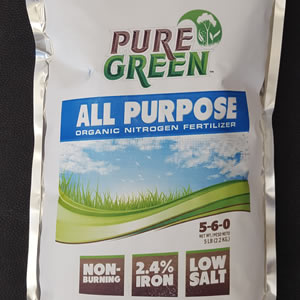 EWA produces PureGreen, an award-winning, biosolids-based fertilizer. The product, which has a nutrient content of 5% Nitrogen, 6% Phosphorous and 0% Potassium (5-6-0), is a sustainable fertilizer with the following benefits.
Slowly releases nutrients, which reduces the required application frequency.
Contains micro and secondary nutrients necessary for plant growth.
Has a very low salt content and thus will not burn plants.
Increases the water holding capacity of the soil, which minimizes the need for irrigation.
---
Product Safety
Routine testing demonstrates that PureGreen exceeds all regulatory requirements and meets EPA standards for a Class A Exceptional Quality (EQ) product. The PureGreen production process heats the material to over 200 °F, killing any pathogens and producing a safe fertilizer that can be used on ornamental plants, trees, grass, fruits and vegetables. A copy of recent testing results can be found here.
Effectiveness
PureGreen is currently used by local nurseries, golf courses and fertilizer blenders. Trials conducted by the Center for Applied Horticultural Research on ornamental plants showed the product is comparable to slow-release or liquid fertilizer products. (A copy of the report can be found here.) An onsite demonstration garden also produced positive results and provided an opportunity to educate the public about the benefits of PureGreen. Watch the following video to learn more.
Purchase
PureGreen is available for purchase in bulk loads or in 1,200 – 1,800 pound tote sacks. To place an order, contact us at:
760-438-3941
This email address is being protected from spambots. You need JavaScript enabled to view it.