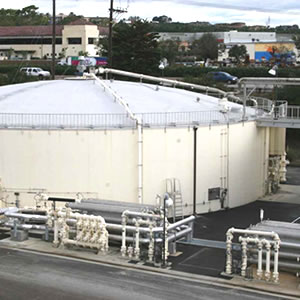 The Encina Water Pollution Control Facility (EWPCF) treats wastewater in digesters that produce a renewable resource called biogas (methane). This biogas is used to fuel internal combustion engines that produce electricity and usable heat. Among other things, this reduces EWA's electricity costs.
This treatment process, known as anaerobic digestion, converts volatile organic solids to carbon dioxide and methane. The conversion occurs in a tank that is maintained at a temperature of 95 to 98 ˚F.
Gas produced by the anaerobic digestion process is a mixture of approximately 60-65% methane, 35-40% carbon dioxide, and small quantities of nitrogen, hydrogen and sulfur compounds. As the gas leaves the digesters, it is cooled, which releases moisture, and then filtered to remove particulates. The conditioned gas is then pressurized and sent to the cogeneration engine generators via mixed gas blowers.
---
Cogeneration
During the EWPCF Phase V plant upgrade, four new Caterpillar G3516 engine generator sets were installed. These sixteen-cylinder, turbo-charged, low-emission engines are capable of generating 750 kilowatts of electricity. They can be fueled by either imported natural gas or methane. Waste heat from the engines' jacket water and exhaust is also utilized to heat the plant's solids digesters, thereby increasing overall system efficiency.
Over 75% of the electricity used by the EWPCF is provided by the cogeneration facility. In addition, use of thermal energy from the cogeneration process to heat the digesters reduces the amount of natural gas that must be purchased. As a result, operation of the cogeneration facility saves the Encina Wastewater Authority about $2 million dollars a year in energy costs.